I can't REMEMBER the last time I was sick for this long, but this is where God has me right now, so I will be content in even this circumstance. I'm getting to do a lot of work on the computer and snuggle time with my boys. This week it has been raining and cold, which is actually a good thing when you need to stay inside resting. It has also been perfect for browsing the craft blogging world . . .
Here are some of the creative projects and ideas that caught my eye this week. Have fun with the creativity and inspiration!
Mama Jill
made an Anthropologie inspired necklace. I love the romantic feel of the fabrics. I can't wear choker style necklaces because of my neck width (not so swan-like), but this is a great tutorial on how to get started and you can make it any length you want!
Bubbly Nature Creations
made a gorgeous leather headband. Of course, it is gray, which is one of my favorite colors right now. She upcycled an old purse, but you could use various fabrics. I absolutely love it!
Paisley Passions
created a very cute and organized menu board for the week. There is nothing better than having the week's meals planned, and my son is now asking me what we are going to eat for dinner EVERY afternoon. This would be a great way to motivate some reading practice! : )
Better Together
shared these really cute tissue "monsters". I love the bright colors. What little kid wouldn't be motivated to reach for a tissue from these cuties? These would come in REALLY handy right about now at our house.
Madigan Made
took her apothecary jars and made milk glass. I saw this done at Christmas with glass jars, and it is so fresh and pretty. This would be a great decor look for spring too! She makes it look so easy (and beautiful) . . .
The Complete Guide to Imperfect Homemaking
posted this tempting recipe for cinnamon rolls. This is one of our family's favorites. I'll have to make these for the boys--oh, I guess I might try one just to see if they taste okay. : )
I found a fun blog called
Make and Takes
. She had a fun idea of a birthday calendar. I don't know about you, but I am always scrambling to remember the birthday cards and presents I need to buy each month. This is a cute and practical idea to help me remember!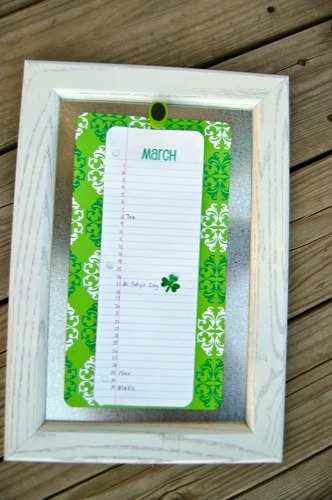 Clean & Scentsible
did a great post on creative projects with clothespins. I love these ideas--you have to look at all her links and photos!
Frugal Antics of a Harried Homemaker
made caramel cookie bars. Caramel is one of my favorite desserts. I will take it anyday over chocolate. These pictures had me drooling . . .
Have a weekend that is blessed and fruitful, friends!