I still am not sure why bulletin boards are so expensive--cork, glue, some trim. If they are fancy, they might have fabric. I still don't see why a large bulletin board is the same cost as buying a bike for your child. This fact made me determined to make a bulletin board for much less than stores were asking.
Our new home has a great playroom with a wall that is screaming for a bulletin board. Here it is in all its blankness. Even my 4 year old looks bored by the beige wall.
Now that Carter is in preschool, and we are starting the Bible Survey program with him at home, we wanted a nice place to post his work. By the way, if you are interested in a Bible Survey program for kids, you can see the one we will use on Amazon.com
here
.
When I first starting doing a craft blog a few months ago, I ran across this fun post from
Short Stop
about making a board for her homeschooling room. I was hooked. I knew I wanted to make one just like this for our house when I had time. It was easy, cheap and no nonsense.
I went to Home Depot with every intention of buying a 4 by 8 foot FoamCore board and cutting it down a little. However, when I went, they also had 2 by 4 foot sizes! I bought two of those and put them together to make a perfect 4 by 4 foot bulletin board. Each foam board cost me about 4 dollars. You can find the Foam Core in the building materials section at a home improvement store. Mine were at the end of the aisle, in the back of the lumber section.
I used duct tape to tape the lightweight boards together.
When you buy your fabric, you have to look at the longer bolts of fabric (not as common) if your board is more than 43-45" long on the shortest side. I wanted to use pretty fabric with stripes in browns, blacks and reds, but the bolts with these looks were either too short or WAY too expensive. I remembered from my teaching days that a plain background looks best for showcasing artwork anyway, so I went for plain old maroon, which is an accent color in our playroom.
Following Short Stops tutorial, I duct taped my fabric to the back of the foamboard and had it all assembled in about 5 minutes. I wanted to add a little fun to a board that would be in our playroom, so I got "Vans" style checkered ribbon and added it to the board. I also used duct tape for this assembly.
Well, I woke up the next morning to find my duct tape falling off my board and ribbon. I didn't have flat tacks on hand, so I used some shallow nails and reassembled my fabric and ribon. The duct tape held the two boards together well, but I definitely would use some nails, tacks or other sticky tricks to keep the fabric and ribbon in place.
I then nailed the ribbon intersections down and then glued decorative buttons on top of the nailheads.
There you go! I got some longer nails and nailed under the ribbon and directly into the wall. Here is a picture of my 1 year old ready to help me hang it with his play tools.
The cost? I had to buy all the materials, including the fabric, so my cost was about 8 dollars in foamboard, 18 dollars in fabric, and 12 dollars in ribbon. I had the nails, button covers and duct tape. If you already had fabric and ribbon, this is an under 10 dollar project. That is a lot less than the 102 dollars Walmart wants to charge me for a 3 by 5 foot board with no decoration or fabric.
Have fun creating these for your house. Over time, I will probably make one for the boys' rooms. If you made a 4 by 2 foot board, this would be a fun gift for a birthday girl or boy, and you could find all kinds of cheaper and cuter fabrics for the smaller size! Enjoy!
I'm linking this post to: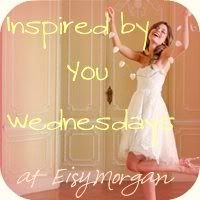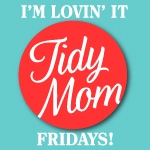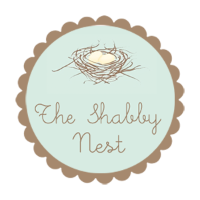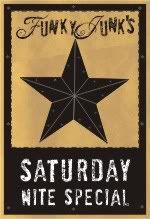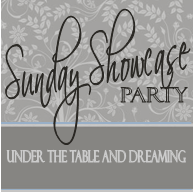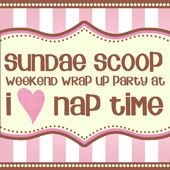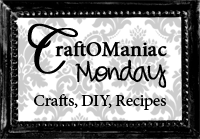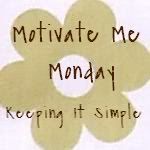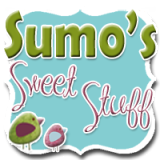 http://todayscreativeblog.net/