Almost all my favorite posts this week involve food and parties. Summer just seems to lend itself to treats and parties and fun. Plus, there just weren't any crafts that inspired me like usual, but I've been very busy and haven't had as much time to browse as usual. Food, however, can always be inspiring; so I had no problem finding delicous posts.
So, pull up a chair and get ready to get hungry. These ideas are scrumptious!
Love from the Oven
shared a recipe that Chili's has. How did I not know about a white chocolate dessert at Chili's? My oldest son loves that place! Hot butter cake, ice cream and ooey-gooey white chocolate drizzled all over--yummo!
Serving food in mason jars is trendy and fun. If you serve pie on a plate, it's good, but if you serve pie in a mason jar, it is amazing! So, I'm rolling with this trend.
The Bakery Spot
shared a post on 6 of her favorite recipes in mason jars. I have shared the smore recipe on Friday Favorites before, but all 6 of these ideas look SOOOO delicious!
I love
The Frugal Girls
! They have the information about all the great coupons and deals. They also give some great craft and recipe ideas. We are doing a beach/surf theme for our children's ministries summer camp this year, so I loved these easy "crab" sandwiches The Frugal Girls mentioned from
Pam's Party and Practical Tips
. What fun!
Confessions of a Cookbook Queen
shares another dessert in a jar recipe--I know--I told you. Jar recipes are everywhere! Cherry Limeade Pie in a jar--yummy! I'm having thoughts of Sonic's Cherry Limeade slushie.
Half Baked
gives us some strawberry lemonade cupcakes that look delicate and sweet. Like her, I adore lemons. Strawberries are an added bonus. I love the little lemonheads on the top of the treats--darling!
Two Peas & Their Pod
made a coconut-lime berry cake that is making my mouth water. This screams summer! I can't wait to make this for someone. I love this blog--make sure to check out their delicious recipes!
Okay, let's end with some party theme fabulousness. One of my favorite Facebook and blog favorites,
Pizzazzerie
, shared a Little Red Riding Hood party. I have a fondness for this story--I was Little Red Riding Hood one Halloween when I was little, and in high school Spanish, I scored the head role of Capericita Roja (sorry if I misspelled that--it was a billion years ago). The only line I remember is "Mi abuela vive al otro lado del bosque." (My grandmother lives on the other side of the forest). Anyway, this theme is unique and OH so cute. Check it out--you won't be sorry! (The favors, the cake pops, the setting--amazing!)
Glamour and Grace
gives us a feminine, beautiful idea. This would be perfect for a summer night, a wedding or a baby/wedding shower. Doilies! They aren't just for your grandma! What a beautiful, easy result for your decorations!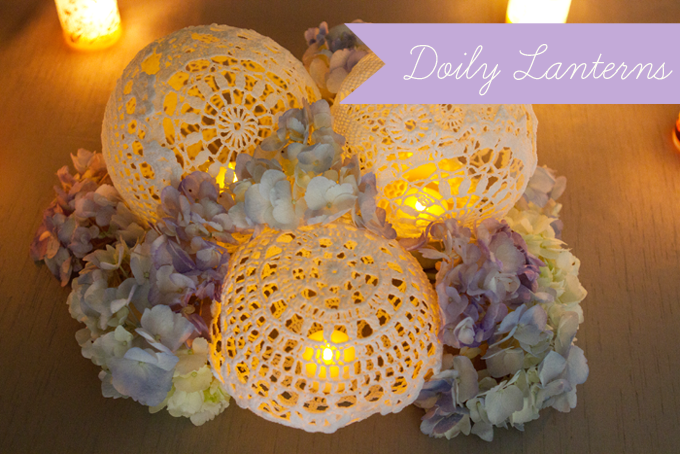 We'll end with another
Pizzazzerie
party. This caught my eye since I've been decorating my craft room at church (for Camp Compass Kids' Camp) to look beach/surfer all week. Cowabunga grommets--check this out! It is tubular! Seriously, though, I plan to hold a party just like this for one of my son's at some point--so great! The cake, the cookies in "sand"/brown sugar and the blue striped cupcake sleeves are my favorites!
Have a great weekend, everyone!